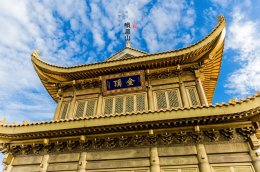 ​ -
 Emeishan - The Golden Summit - Foot of Mt. Emei
Meet your guide in the hotel lobby, head out to high-speed train station either by metro or by car. (The type transportation is depend on the location of your hotel)
During this comfortable train journey (about one hour 20 minutes), you can mingle with locals and enjoy the idyllic landscape of the Chengdu countryside. On arrival, you'll take a tour bus to the highest parking lot in Emeishan--Leidongping (about 1.5 hours) and then hike 30 minutes to catch the cable car up to spectacular Golden Summit. 
On the Golden Summit, you'll see a giant gold-plated bronze statue of Puxian Buddha (48 meters tall and weighing 660 tons), one of the tallest gold-plated Buddha statues in the world. Behind the statue, there are three magnificent buildings, gold, silver and bronze palaces housing even more exquisite Buddhist statues.
In the afternoon, take cable car and bus all the way down to the foot of mountain,your day will be end by stepping into the back door of Baoguo Temple, visit this time honored monastery when all the tourists are gone.
Overnight stay :
Option 1:Hongzhushan Hotel No.5 Building(5-star standard ) or equivalent
Option 2: Zen Boutique hotel ( 4-star standard)  or equivalent